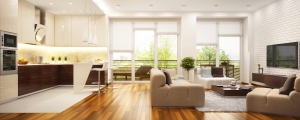 Depersonalize:
Your potential home buyer could spend more time looking at what's in the home than actually seeing their lives taking place there. Your goal is to have your home appear as a blank slate, just waiting for a new buyer to make their mark.
Don't Shove It In The Closet:
Storage is important to buyers checking out a home. Many will check inside your closets to look at the space and you don't want them opening them up to all of your junk. The important thing is to make your home appear spacious and inviting.
Warm It Up:
The old trick of baking bread or cookies works to appeal to clients because it makes the home feel warm and lived in. Scented candles can work a similar magic. Fresh flowers or plants are also a nice touch and one that stagers often use.
Keep It Bright:
Light sells homes. Windows should be freshly cleaned on both the inside and the outside for maximum sunlight potential. Remove heavy drapes and cut down the pushes outside your windows to let natural sunlight into your home.
Make A Day Of It:
Even the happiest of moves are stressful, so defuse some of that by taking yourself and your family out for a little reward.