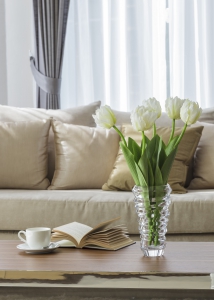 01 KEEP A PAD AND PEN BY THE PHONE
Jot down all appointments made. Get the name of the salesperson, the company they work for, the phone number, and time they are expected to arrive.
02 HOME ACCESS 
Never let anyone into your home unless they are accompanied by a real estate agent. If the person who knocks on your door is truly a prospective buyer, they will contact the listing agent and make an appointment to see the property. You would not allow a stranger to access your home normally – do not do it now. 
03 BROKER INSPECTIONS
Once your house is listed with the Multiple Listing Service, we will get calls from real estate agents who want to show your home to prospective buyers; however, we will also receive calls from agents who simply want to preview your home. By all means – let them do so. An agent can do a better job showing your house (pointing out the benefits and features) when they are familiar with it. They can persuade a prospective buyer to come to see your property more easily when they can say they have seen it themselves.
04 LET THE REAL ESTATE AGENT SHOW THE HOUSE
You may know your house better than the agent, but the agent knows the prospective buyers better than you do. The real estate agent knows what features and benefits will appeal to their customer. Greet the prospective buyer cheerfully and then say: "If you have any questions, just let me know." Do not follow them around. The purchaser may have objections that they do not want to voice in front of you. The real estate agent cannot overcome objections if the buyer is unable to voice them. If the buyer has any questions, answer them honestly, then let the agent do their job of selling your house.
05 ALL VALUABLES SHOULD BE PUT AWAY DURING SHOWINGS 
If there are any small items that are of great value, it might be advisable to remove them from the house while it is on the market. Cash, wallets, and handbags should never be left out in view.
06 YOU SHOULD CONTACT AN ATTORNEY AS SOON AS THE HOUSE GOES ON THE MARKET 
You should supply the attorney with copies of the deed, all certificates of occupancy, survey, and mortgage information including mortgage number, bank, and balance. If your mortgage has been satisfied, a copy of a recorded satisfaction should also be given to your attorney.