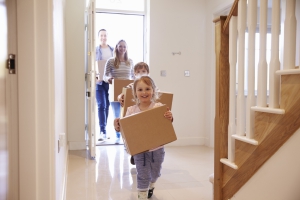 Photo Exchange:
Before you move, take photos of the old house and friends for a photo album keepsake. Exchange phone numbers, addresses, and emails to stay in touch.
Packing:
Label and decorate moving boxes for your kids. Return library books and rented movies. Make sure all art supplied are sealed and pack them separately.
Moving Day:
Have a special toy ready for your kids on moving day for the ride to your new home. Bring a book, game or craft to occupy them once you arrive there. Bring plenty of snacks and drinks.
Fun Plans:
Plan a trip to your child's new school & check out the school's website. Take a walk in your new neighborhood to find local parks, attractions, and meet your neighbors.