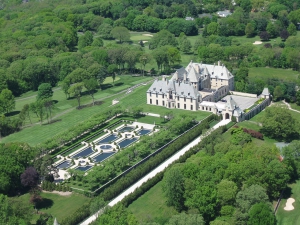 Long Island real estate is unique and intriguing in its vast differences, by neighborhood, design and place in history.  Almost everyone has heard of the famous "Levitt" homes, a post- World War II mass production of homes that became the model for suburbia.  There are also the historical colonials, some which still adorn the bright colors of pink, green, purple or blue of its time.  And, there are of course famous "Gold Coast Mansions," adorning Long Island's North Shore, such as Oheka Castle, now a luxurious wedding venue; the Vanderbilt Mansion, now a museum; and the Woolworth Mansion, which remains privately owned.  What these variations mean is that Long Island's real estate market is both unique, and evolving to maintain its history while keeping up with the times.
A recent evolution in the real estate market on Long Island is the auctioning off of luxury homes.  Auctions have been a popular method of sale for other high-end pieces, such as artwork, items owned by a famous individual or rare antiques.  However, luxury homes have not frequently been affiliated with the auction process.  Until now.  Why? In total, there is not an overabundance of inventory of real estate on Long Island.  But there is no shortage of luxury homes.  Auctions are a way for the owners of these properties to stand out in market that is saturated with Gold Coast homes and other luxury homes on Long Island.  For those who can afford the high price tag of luxury, there has not been a tremendous urgency to buy because of the high inventory.  Through the auction process, owners provide potential buyers with the feeling that they have more of a say in the process. This may increase that urgency to buy.
The benefit of an auction is that the public determines the value, which is why it has worked as a buying process for years for rare jewelry, art, cars and antiques.  When value is tough to determine, an auction makes perfect sense as a method of sale.  There is no doubt that the value of these remarkable structures is not easily determined.  For example, one such home, a stunning Lloyd Harbor Tudor situated on 10-acres of water view property has been listed on the traditional real estate market from ten million to twenty-four million, a remarkable difference and a testament to the difficulty in valuation.  These structures are sometimes more akin to rare art or antiques, than homes.
The Lloyd Harbor mansion, along with five other North Shore Long Island homes are scheduled to be auctioned off this month.  It goes without saying, that this is likely only the start of good news for luxury buyers is that the starting auction prices are lower than previous list prices.  However, these prices are bound to soar as Long Island's wealthiest and collectors of "fine art" challenge each other for ownership rights to these historical, massive and remarkable residences.  As the inventory of these homes decline due to anticipated successful auctions, there is no doubt that the prices will increase.
However, Long Island's luxury home market is certainly not struggling and will only be boosted by this new trend of real estate auctions on Long Island.