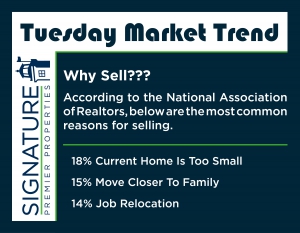 Every year the National Association of Realtors conducts a survey of recent home buyers and sellers from around the United States. This data was compiled to publish the National Association of Realtor Profile of Home Buyers and Sellers. 2016 marked the 35th anniversary of this report. This report contains some intriguing information for both buyers and sellers, in relation to purchasing and selling trends. Last year, 2016, was no different as not only the Long Island real estate market, but the countrywide market, saw consistent trends. When home sellers were questioned, they answered as follows:
When asked why the homeowner chose to sell, there were three most common responses. The most common reason for selling was to upgrade; 18% of all sellers reported that they sold their home because it became too small for their needs. The second most common reason, with 15% of sellers reporting this response, was the desire to move closer to family and friends. And lastly, 14% reported that they sold their house due to job relocation, the third most popular response.
After polling individuals who had recently sold a home, it was calculated that recently sold homes had been on the market for a median of four weeks. The even better news for potential Long Island sellers: the average time that a house remains on the market on Long Island is typically even lower.
More good news for sellers: they are turning a profit! Home sellers in 2016 reported that they sold the home for a median of $43,100 more than they had purchased it for.
There are also numerous trends in terms of sale statistics and rates when real estate agents are used and when they are not. For starters, 89% of sellers used a real estate agent, and of those, 85% would recommend their agent for future services. Agent assisted sales had a median sale price that was 24% higher than those that were listed for sale by owner. This statistic could be the reason why the percentage of homes for sale by owner is the lowest recorded since 1981, at 8%.
And finally, 92% of sellers listed their homes for sale on the Multiple Listing Service, which is the number one source for sellers to list their homes. So, if you are looking for a Long Island real estate company to sell your home, contact Signature Premier today.