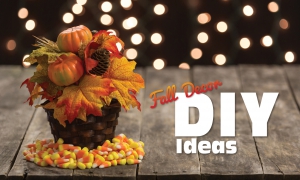 Fall is finally here and you know what that means… it's time to take down all of your summer gear around the house and give your home the colorful autumn look it's been waiting for! Instead of using all the same decorations from last year, make your own this year! There are many fun fall DIY projects you can create to give your home the perfect fall feeling! Whether you live in a large house, or in a 1 bedroom apartment, these projects are great for any home!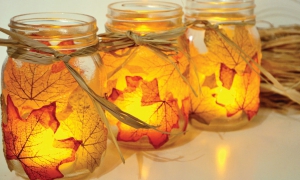 1. Fall Leaf Mason Jar Lights
These easy to make lights are great to use as centerpieces on your tables or to put on shelves to create a relaxed ambiance in your rooms.
What you'll need: Mason Jars, Colorful Leaves (real or fake), Mod Podge, Sponge Brush, Small Candle or Small Electric Candle, Rafia or Ribbon.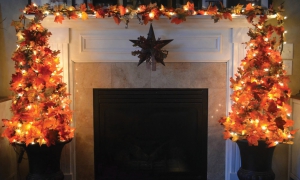 2. Fall Trees For Inside
Bring the outside feeling inside! These beautiful fall trees will look great in the empty corners of your rooms or next to a fireplace or mantle.
What you'll need: Tomato Cage, Fake fall leaves garland (make sure long enough to cover tomato cage or get multiple garlands), A Planter (or whatever you want to place these in as a placeholder), and White Christmas Lights.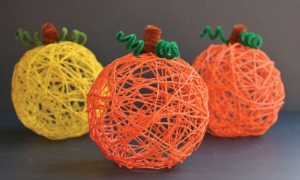 3. Yarn Pumpkins
Yarn pumpkins are a fun and easy decoration to create with your kids! Place them on shelves, counters, tables and more around your house! You can even tie string on them and hang them around your home!
What you'll need: Colorful yarn (preferably oranges, reds, and yellows), white glue, balloons to blow up (small), and pipe cleaners.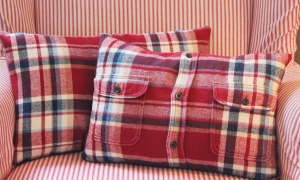 4. Flannel Shirt Pillows
This unique idea will add the perfect fall feeling in your home without the leaves and pumpkins!
What you'll need: A clean, ironed plaid shirt, pillow (size will depend on size of shirt) and sewing kit.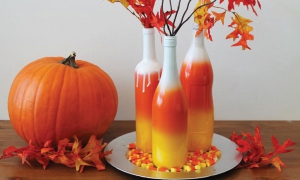 5. Candy Corn Painted Wine Bottles
Don't throw away your empty wine bottles this season! Keep them to create these cool candy corn styled centerpieces!
What you'll need: Empty wine bottles, orange, white, yellow spray paint, cardboard, and the optional materials are pumpkins, leaves, candy corn, and twigs.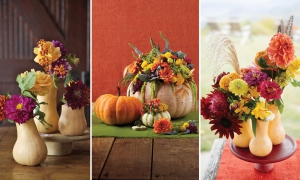 6. Gourd and Squash Vases
Gourds and squash come in all shapes, sizes, and colors which make them great for many fall decorations. This simple project will give you beautiful vases for your fall flowers.
What you'll need: Any shape and size gourds or squash, and flowers (real or fake).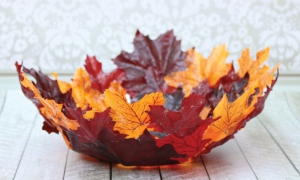 7. Colorful Leaf Bowls
Leaves are one of the best representations of fall. Give your home a fabulous fall look with this creative and easy to make leaf bowls!
What you'll need: leaf garland, mod podge (matte finish), foam brush, a balloon, and mixing bowl.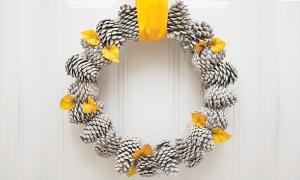 8. Pine Cone and Fall Leaf Wreath
There are many different fall wreaths you can create for your door or any wall in your home. Create this pretty pine cone wreath that can be used both for your fall decorations and also winter decorations!
What you'll need: Grapevine wreath, pine cones, glue gun & glue sticks, synthetic leaves, scissors, spray paint (optional).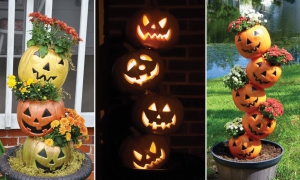 9. Outdoor Pumpkin Flower Pot Display
This whimsical and unique decoration is great for your yard to give your home fun autumn curb appeal. You can also create this to place inside your house as well.
What you'll need: pumpkin buckets, flowers (real or fake), a sturdy garden stake or metal rod, power drill, potting soil for real plants, and an empty barrel or large planter.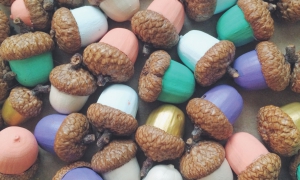 10. Painted Acorns
A fun fall DIY project that your kids can help with is painting acorns! Have your children search outside for the best acorns around and let them choose the colors and designs! They are easy to display and fun to create!
What you'll need: Acorns, Acrylic Paints (any colors you want), paint brush, foil lined cooking sheet.