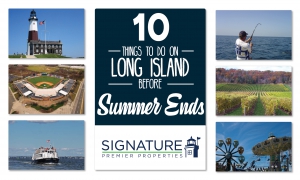 Summer has come so soon and is quickly flying by us. Don't panic! There's still time to get some last minute fun in for the remaining days of the warm season. If you're looking for some fun ideas for the end of your summer, check out our list of 10 great things to do on Long Island before summer ends!
1. Montauk Trip | Montauk, NY
Montauk is a great getaway spot for Long Islanders whether you're looking to stay for a weekend, or just for a day trip. Spend your time here on the white sandy beaches, walking/biking the miles of hiking trails, paddle boarding, kayaking, fishing, enjoying a delicious meal at one of the many excellent restaurants, and so much more! A very popular attraction in Montauk is visiting the Montauk Point Lighthouse where you will see sweeping views of the Atlantic Ocean from the easternmost point of Long Island!
2. Fishing | Many Locations
There a few great spots for you to catch some delicious fish for dinner! There are fishing fleets all over the shores of Long Island, some locations include Captree State Park, Port Jefferson, Greenport, and many more. Take your family and friends out for a day of relaxation and bonding over fishing!
3. Long Island Aquarium | Riverhead, NY
Explore all different species of sea life at this great aquarium in Riverhead! This aquarium has it all including one of the largest all-living coral reef displays in this hemisphere, 120,000 gallon shark tank, year-round sea lion shows, African penguins, numerous touch tanks, and more than 100 exhibits. Some great interacting exhibits include the Butterflies, Bugs & Birds Exhibit, the aquatic adventure Shark Dive, the Penguin Encounter and the Pirate Snorkel Adventure!
4. Fire Island Trip | Fire Island, NY
Take a ferry ride over to Fire Island! Just like Montauk, Fire Island is a great place for a quick vacation for a few days, or just a day trip! Some of the popular towns of Fire Island include Ocean Beach, Cherry Grove, Ocean Bay Park, and Kismit. Within these towns you can visit great shops, excellent restaurants and bars, and of course the beach. Enjoy the car-free getaway for a truly unique beach experience!
5. Splish Splash | Calverton, NY
Not enjoying the heat this summer? Cool down at Splish Splash in Calverton! This water park is for the whole family! With 96 acres of park, it features 20 water slides, rides and attractions, 2 wave pools, a lazy river, a large kiddie area, food venues, gift shops, and more!
6. Zip Lining | Wheatley Heights, NY
Long Island features a fun and exciting Adventure Park in Wheatley Heights, great for a thrilling day. At this park you can zip your way through their 8 zip lining trails, ranging from beginner to advanced. (Must be 15 years of age to attempt the advanced courses).
7. Ducks Game | Central Islip, NY
Spend your night seeing a Long Island Ducks Game at the Bethpage Ballpark! Tickets starting at $12. This will be an affordable night out for your family to experience the fun and excitement of a ducks game! Enjoy some yummy treats and don't forget to get your "quacker" noise maker.
8. Adventureland | Farmingdale, NY
Located in Farmingdale, you can have a family packed day at this amusement park. Enjoy fun attractions like the Turbulence Coaster, the Pirate Ship, bumper cars, the Ferris wheel, Wave Swing, Adventure Falls, and many others. Play games outside for prizes, or enjoy games in the arcade. There is something here for everyone!
9. Long Island Wineries | East End
Want a relaxing day out east? Visit some of our finest Long Island wineries! Some of the popular wineries include Baiting Hollow Farm Vineyard, Martha Clara Vineyards, Pugliese Vineyards, Palmer Vineyards, Duckwalk Vineyards, and many others. Whether you're enjoying tastings of all different types of wines or drinking a glass of your favorite red, you will experience a lovely, relaxing day. Some vineyards have live music, food, art, shops, and more.
10. Belmont Park | Elmont, NY
One of the oldest and most beautiful race tracks in our nation is Belmont Park. Enjoy a day at the races with fine dining, picnic facilities, pony rides, a petting zoo, and of course, place your bets on the races!