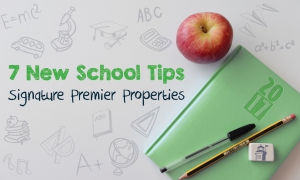 Whether your family moved to a new area where your child will be going to a new school, or your child is making the leap into middle school or high school, the few weeks before starting can be filled with some nervous feelings along with excitement. This isn't only a new venture for your child, but it is a new venture for you as a parent as well. Take a look at these tips to make sure you and your child both have a smooth transition to their new school!
1. Keep A Positive Attitude
If your child is moving up to a new school, or moving to a new school in a different city, it is completely normal for them AND you to be a little anxious. If you have any concerns, don't express them to your child, this could make them more anxious than they already may be. Show optimism and encourage excitement about the new experiences they will have. Ask them about any anxieties or fears they may have and reassure them that other children are feeling the same and that they will have a great year. A good way to talk them through anxieties is to tell them about some of your past experiences when you started at a new school, this will help set an expectation of a great year.
2. Do A Trial Run Of Their Traveling Route To School
If your child is going to be taking the bus, show them where the bus stop is and where they'll be waiting. Find out the bus schedule ahead of time so you can make sure you child doesn't miss the bus on their first day. If they are going to be walking to school this year, map out the safest route to the school and do a trial walk with your child, making mental (or physical) notes of where the cross walks and crossing guards are located. Make sure the route to school avoids any empty lots or areas where there aren't many people. If your child knows any children in the neighborhood, have them walk with those children to school instead of alone.
3. Trial Run The School Halls
Call the new school and ask if you can walk the halls before school starts so your child can know where to go on their first day. Visiting the actual school before the first day could help take away some of the anxieties your child may have about not knowing what the school looks like or where to go. When speaking with the school, make sure to ask about any first day procedures so you and your child are aware of what will happen.
4. Communicate With Teachers And The School
Get acquainted with their teachers, contact them in the start of the school year and make sure they are aware that you want to be an active partner in helping your child learn and grow. Join parent groups for the school such as PTA or other groups that will help keep you involved with what's going on in your child's school. Contact the president of any of these groups and introduce yourself, these leaders are in a good position to explain information or issues about the school.
5. Encourage School Involvement
It's always a good idea for your child to get involved in any school activities like sports, clubs, leagues, or whatever they may be interested in. Children are more likely to engage academically if connected to a school activity. These activities are also where your child will most likely meet many friends who have the same interests.
6. Prepare The Night Before
Make sure you are prepared for what is to come the next day. Plan a healthy breakfast for before they leave to help them through the day, make sure they have all the correct supplies (books, pens/pencils, folders, paper, etc.) and pack their lunch or have lunch money ready for them if they are buying lunch at school along with whatever else is needed. Many teachers will give a list over the summer of materials that are needed so that your child is prepared for the first day.
7. Send Them Off To The Beginning Of A Great School Year
Once they are packed and ready to head off to their first day at their new school, give them a big hug and reassure them of the great time they will have. Maybe take a photo to remember the year they started at their new school. Cherish all the moments as they grow and learn to flow with the current of this new beginning!