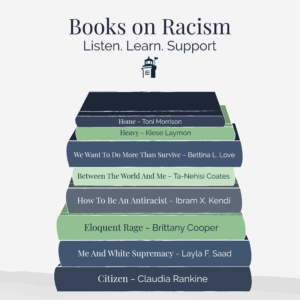 Knowledge is power. If you're seeking ways to educate yourself on Black history & Black culture, this book list is a great place to start. All of the books are available to purchase at Black-owned bookstores across the nation. 
We Want To Do More Than Survive: Abolitionist Teaching and the Pursuit of Educational Freedom
By Bettina L. Love
Drawing on her life's work of teaching and researching in urban schools, Bettina Love persuasively argues that educators must teach students about racial violence, oppression, and how to make sustainable change in their communities through radical civic initiatives and movements. She argues that the US educational system is maintained by and profits from the suffering of children of color. Instead of trying to repair a flawed system, educational reformers offer survival tactics in the forms of test-taking skills, acronyms, grit labs, and character education, which Love calls the educational survival complex.
Source: Beacon Press
Between The World And Me
By Ta-Nehisi Coates
In a profound work that pivots from the biggest questions about American history and ideals to the most intimate concerns of a father for his son, Ta-Nehisi Coates offers a powerful new framework for understanding our nation's history and current crisis. Americans have built an empire on the idea of "race," a falsehood that damages us all but falls most heavily on the bodies of black women and men—bodies exploited through slavery and segregation, and, today, threatened, locked up, and murdered out of all proportion. What is it like to inhabit a black body and find a way to live within it? And how can we all honestly reckon with this fraught history and free ourselves from its burden?
Source: Penguin Random House
Home
By Toni Morrison
When Frank Money joined the army to escape his too-small world, he left behind his cherished and fragile little sister, Cee. After the war, his shattered life has no purpose until he hears that Cee is in danger. Frank is a modern Odysseus returning to a 1950s America mined with lethal pitfalls for an unwary black man. As he journeys to his native Georgia in search of Cee, it becomes clear that their troubles began well before their wartime separation. Together, they return to their rural hometown of Lotus, where buried secrets are unearthed and where Frank learns at last what it means to be a man, what it takes to heal, and–above all–what it means to come home.
Source: Vintage Books
How To Be An Antiracist
By Ibram X. Kendi
In How to Be an Antiracist, Kendi takes readers through a widening circle of antiracist ideas—from the most basic concepts to visionary possibilities—that will help readers see all forms of racism clearly, understand their poisonous consequences, and work to oppose them in our systems and in ourselves. Kendi weaves an electrifying combination of ethics, history, law, and science with his own personal story of awakening to antiracism. This is an essential work for anyone who wants to go beyond the awareness of racism to the next step: contributing to the formation of a just and equitable society.
Source: One World
Heavy: An American Memoir
By Kiese Laymon
In Heavy, Laymon writes eloquently and honestly about growing up a hard-headed black son to a complicated and brilliant black mother in Jackson, Mississippi. From his early experiences of sexual violence to his suspension from college, to time in New York as a college professor, Laymon charts his complex relationship with his mother, grandmother, anorexia, obesity, sex, writing, and ultimately gambling. Heavy is a "gorgeous, gutting…generous" (The New York Times) memoir that combines personal stories with piercing intellect to reflect both on the strife of American society and on Laymon's experiences with abuse. By attempting to name secrets and lies he and his mother spent a lifetime avoiding, he asks us to confront the terrifying possibility that few in this nation actually know how to responsibly love, and even fewer want to live under the weight of actually becoming free.
Source: Simon & Schuster
Eloquent Rage
By Brittany Cooper
Eloquent rage keeps us all honest and accountable. It reminds women that they don't have to settle for less. When Cooper learned of her grandmother's eloquent rage about love, sex, and marriage in an epic and hilarious front-porch confrontation, her life was changed. And it took another intervention, this time staged by one of her homegirls, to turn Brittney into the fierce feminist she is today. In Brittney Cooper's world, neither mean girls nor fuckboys ever win. But homegirls emerge as heroes. This book argues that ultimately feminism, friendship, and faith in one's own superpowers are all we really need to turn things right side up again.
Source: St. Martin's Press
So You Want To Talk About Race
By Ijeoma Oluo
In So You Want to Talk About Race, Ijeoma Oluo guides readers of all races through subjects ranging from intersectionality and affirmative action to "model minorities" in an attempt to make the seemingly impossible possible: honest conversations about race and racism, and how they infect almost every aspect of American life.
Source: Seal Press
Me And White Supremacy
By Layla F. Saad
This eye-opening book challenges you to do the essential work of unpacking your biases, and helps white people take action and dismantle the privilege within themselves so that you can stop (often unconsciously) inflicting damage on people of color, and in turn, help other white people do better, too. Based on the viral Instagram challenge that captivated participants worldwide, Me and White Supremacy takes readers on a 28-day journey, complete with journal prompts, to do the necessary and vital work that can ultimately lead to improving race relations.
Source: Sourcebooks
Citizen: An American Lyric
By Claudia Rankine
Claudia Rankine's bold new book recounts mounting racial aggressions in ongoing encounters in twenty-first-century daily life and in the media. Some of these encounters are slights, seemingly slips of the tongue, and some are intentional offensives in the classroom, at the supermarket, at home, on the tennis court with Serena Williams and the soccer field with Zinedine Zidane, online, on TV—everywhere, all the time. The accumulative stresses come to bear on a person's ability to speak, perform, and stay alive. Our addressability is tied to the state of our belonging, Rankine argues, as are our assumptions and expectations of citizenship. In essay, image, and poetry, Citizen is a powerful testament to the individual and collective effects of racism in our contemporary, often named "post-race" society.
Source: Graywolf Press