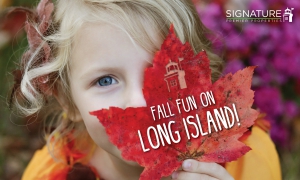 From pumpkin picking and hay rides to festivals and delicious food, Long Island has it all this fall! Get your calendars out and mark down these dates to enjoy some fall fun on Long Island!
1. Great Cow Harbor Day | Main Street in Cow Harbor, Northport
September 15th – September 17th | 11:00am – 5:00pm
The Great Cow Harbor Day Weekend is a great celebration of the Northport community. The weekend starts off with the Great Cow Harbor 10-Kilometer run, which has been ranked as one of the top 100 races in the USA by Runner's World. This year the run will be supporting the Special Olympics, the Veterans Administration, and their local food pantry. If you want to run, you can register HERE. When the race is over, the festivities begin! Enjoy many things including the Village Concert or the lighted boat contest on Saturday night, or the parade on Sunday followed by sidewalk sales by Northport's merchants, games, rides, arts and crafts vendors, food, and more!
2. The Long Island Garlic Festival | 4558 Sound Ave, Riverhead
September 16th – September 17th | 10:00am – 6:00pm
If you are a garlic lover, don't miss out on this awesome, unique event! At this festival there will be crafts, live music, organic garlic, a wide variety of garlic inspired foods and more!
3. Finks Family Farm Festival | 6242 Middle Country Rd, Wading River
September 23rd – October 29th (Weekends Only) | 9:30am – 5:30pm
Enjoy your weekend at Finks Family Farm through these dates to enjoy pumpkin picking, animal farms, pig races, hay rides, a corn maze, a pumpkin sling shot, delicious roasted corn, pony rides, and so much more! Think Finks this fall!
4. Long Island Fall Festival | Heckscher Park, Prime Ave and Main Street, Huntington
October 6th – October 9th | (10/6) 5:00pm – 9:00pm | (10/7 – 10/8) 11:00am – 9:00pm  | (10/9) 11:00am – 5:00pm
This is a premier event for family fun on Long Island. Highlighting the best Huntington has to offer, this event is truly a celebration of community spirit. Some attractions that will be here include 4 stages of live entertainment, a world class carnival, hundreds of arts and craft vendors, international food courts, beer and wine tents, a farmers market, and numerous activities great for the whole family.
5. 5th Annual Oktoberfest Celebration | Eisenhower Park, East Meadow
October 7th – October 9th | 12:00pm – 5:00pm
This is Nassau County's annual Oktoberfest celebration that brings families and friends together for a weekend of great culture! Devour the delicious German food, enjoy the fun pumpkin maze, tractor rides, and great activities for the kids.
6. The Big Rig Truck Show | Pennysaver Ampitheater At Bald Hill, 55 S. Bicycle Path, Farmingville
October 8th | 9:00am – 6:00pm
The largest truck show on Long Island is back! There will be many craft vendors with handmade items, toys, and model cars, amazing food vendors, games, monster truck rides, and many awesome trucks for you and your kids to see!
7. Rise of the Jack-O-Lanterns | Old Westbury Gardens, 71 Old Westbury Rd, Old Westbury
October 6th – 8th , October 13th – 15th , October 19th – 22nd and October 26th – 29th | Times Vary
Returning for the 6th year in a row is this iconic and unique family friendly event. Here you will walk through the scenic walking path that displays about 5,000 hand-carved pumpkins that are illuminated creatively. You will be truly amazed at the intricate works of art that this show offers! This year they will be doing live carving demonstrations at the tent and also these carvers will be answering questions you may have so that you can use that knowledge to create your own pumpkin masterpieces at home.
8. Oyster Festival | Theodore Roosevelt Memorial Park: West End Ave, Oyster Bay
October 14th – October 15th | 11:00am – 6:00pm
This year will be the 34th annual Oyster Festival, the largest waterfront festival on the East Coast! At this festival there's a fun mixture of new and old activities to entertain the whole family, including tall ships, tons of food, pirate shows, midway rides, and of course, the iconic oyster eating and shucking contest.
9. Spooky Fest | 1450 Tanglewood Rd, Rockville Centre
October 14th, October 20th – 22nd, and October 27th – 29th | 6:30pm – 9:30pm
The Center for Science Teaching and Learning celebrates Halloween this year with Spooky Fest. This is a family friendly event where 16 acres will be transformed into a Halloween fun fest! There are Non-Scary attractions, and also scary attractions you can choose from. Some of the non-scary attractions include friendly merry monsters, a Halloween theatre, arts and crafts area, not-so-spooky walk in the woods for young children and more! If you are looking for a scary thrill, enjoy a haunted woods walk through, maze of zombies and more!
10. Great Jack-O-Lantern Spectacular Sail | Belmont Lake State Park, North Babylon
Saturday October 28th | 3:00pm – 6:30pm
This will be the 4th annual Great Jack-O-Lantern Spectacular Sail! The first 50 carved pumpkins are inserted with candles and placed on floating device and sailed around the lake. Around the lake there are a ton of fun things to do like games, a petting zoo, crafts, trick or treating stations and more!