If you love to entertain when you have guests over, you may be thinking about building a home bar. The ability to entertain at home is more important than ever, with COVID-19 shutting down some of our favorite watering holes. While enjoying time inside doesn't require a bar, sometimes a happy medium between a full-on wet bar and just a few beverages in the fridge can help elevate the hosting experience. Here are the essentials you need for a great home bar: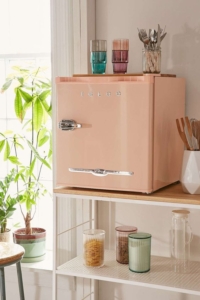 1. Bar Fridge
Having a separate bar fridge is a great addition for several reasons. First, you can keep your beverages at the temperature they are meant to be kept at. Beverage refrigerators are best kept 10 degrees warmer than the normal fridge temperature. Another great reason is that you will no longer waste fridge space for beverages. Now, you don't have to worry about taking food out to put drinks in!
Grab this retro mini fridge from urban outfitters.
2. Bar Decor
Decide what style you want for your bar space. Whether you want an elegant or pub theme, choose pieces that will tell a story. 
This neon sign from Love Inc. is perfect for the bar that needs that extra something.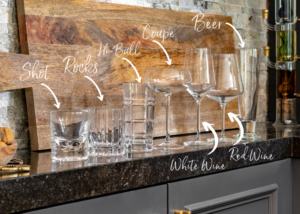 3. Plenty of Glassware
When hosting guests at your home bar, it is helpful to have a variety of glassware to suit the types of drinks you may be making. Keep rocks glasses, highball tumblers, and stem glasses – with a few red and white wine glasses on hand. Pint and shot glasses are also great to keep in your bar.
Find all of the necessary glassware courtesy of Sanctuary Home Décor.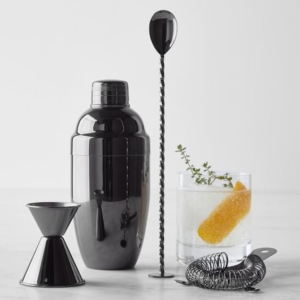 4. Cocktail Shaker & Strainer
If you have a cobbler shaker, there is no need for a strainer, as they are usually built-in. If you have a Boston shaker, which can be a little trickier to use, you will need to get a strainer for pouring your drinks.
Get this sleek set at Williams Sonoma.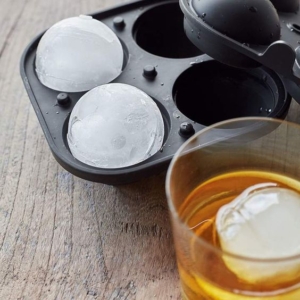 5. Ice Trays
Unless you have an ice machine, you will need to have ice cube trays. Silicone trays are much easier to get cubes out of and tend to be much sleeker in appearance. Try to find trays with larger compartments so your ice will last longer. 
Create ice spheres with this silicone tray from Sur La Table.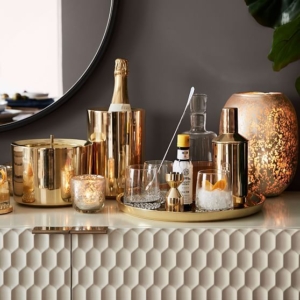 6. Bar Accessories & Tools
Some items you may want to have in your bar for some cocktails including a mixing Spoon, muddler, jigger, measuring Shot Glass.