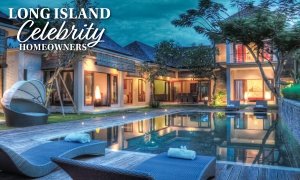 Long Island's real estate market is most commonly known for attracting young families looking to flee the hustle of the city, settle in a good neighborhood with prominent schools or have a sufficient amount of land.  Long Island homeowners also consist of middle aged families and elderly living in the home they grew up in, but when you think of a celebrity next door neighbor, Hollywood is more likely to come to mind than Long Island. However, there are numerous movie stars, singers, professional athletes and other famous individuals that have called or still call Long Island home, at least for periods of time throughout the year. Long Island's beautiful landscape serves as year-round homes or quiet getaways for celebrities looking to take in a less luxurious, yet less publicized lifestyle.
The checklist items that draw celebrities to Long Island are probably the same items that would draw anyone else. Beautiful beaches, large properties, fine dining and nightlife, impressive homes. While celebrities may live a more open and glamorous lifestyle on a daily basis, we can certainly say that a love of Long Island, it's homes and everything else it has to offer is something we all have in common.
Many celebrities began their road to stardom while calling Long Island home. From actors to singers to other public figures, celebrities, before the world knew their name, were born in Long Island hospitals, graduated from Long Island schools and were made in Long Island homes. The Baldwin brothers, known for their comedic and dramatic television stints, grew up in Massapequa, as did comedian Jerry Seinfeld.  Rapper and actor LL Cool J was born in Bayshore. Radio personality Howard Stern, who has hosted his own show for nearly forty years grew up in Roosevelt, as did comedian and actor Eddie Murphy. Lori Loughlin, most loved for her role as Aunt Becky in Full House was raised in Hauppauge. And more frequently referred to as Long Islander's, Billy Joel, the "piano man," who still maintains a residence on Long Island, is a native of Oyster Bay, and actress Lindsay Lohan grew up in Merrick.
However, not all celebrities leave Long Island and many non-natives take up residence in Long Island. Eli Manning, Super Bowl champion and MVP for the New York Giants purchased a Long Island oceanfront home in Westhampton Beach in October of 2016 for $8.5 million dollars. The home, located on Dune Road, has impeccable water views and boasts 3,000 square feet, six bedrooms and three and one-half bathrooms.
Fashion designer Tory Burch has owned a home on Ox Pasture Road in Southampton for the last several years. This Long Island real estate gem, now valued at over $13 million spans nearly 9,000 square feet, with eight bedrooms and eight bathrooms. Celebrity chef Ina Garten, whose Food Network show serves in part as a culinary tour of Hamptons eateries, shops and fine food distributors, calls Buell Lane in East Hampton her home. Fans can see the "Barefoot Contessa" preparing, cooking, eating and entertaining from her home on her Food Network show.
Other current famous Long Island real estate owners include famed director, Steven Spielberg; comedian, Louis CK; model, Brooke Shields; television personality, Kelly Rippa; country music icon, Jimmy Buffet; rock stars, Jon Bon Jovi, Paul Simon and Russell Simmons; among others.
Real estate on Long Island is booming for all demographics and it does not appear that celebrities, and everyone else, will slow down their moves to this beautiful, suburban market anytime soon.