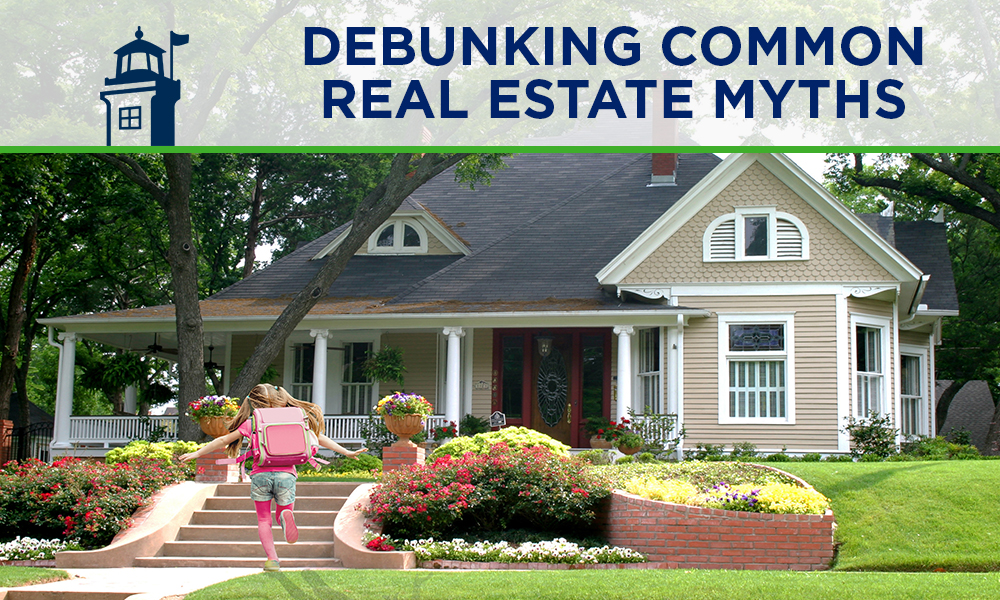 The home buying and selling process is undoubtedly a stressful one based on the level of monetary investment a buyer will make or the level of financial return a seller will seek. However, some of that stress can be managed if you realize what commonly believed real estate myths are false. Unless you're a real estate agent, buying or selling a home is not something most people do on a regular basis. Despite this, many people believe they have a true understanding of the industry due to the perpetuation of myths.  If you are looking to enter the Long Island real estate market as either a buyer or seller, it is important to know what is true and what is false about the real estate industry.
Myth 1: Price your home at a higher price than you expect to get.
This myth is commonly spread, which is understandable as the reason behind it is not outrageous.  There is typically a negotiation process in the real estate industry. Because of this, sellers are typically tempted to set the price of their home above what they expect to receive or above the true value. However, this may actually net you a lower price and force your home to stay on the market for longer than you desire. Many buyers, and their agents, will not even bother looking at a home that is priced above market value.  While you can always lower the price, buyers are naturally suspicious of homes that have drastically reduced their price and have remained on the market for a month or more. The Long Island real estate market is competitive and the inventory is not high; as such, if you price your home correctly, there is a good chance you will actually receive multiple offers and get full asking price or even more.
Myth 2: Don't worry about mortgage pre-approvals until you find your dream home.
Buyers should always be pre-approved for a mortgage prior to beginning the house hunting process.  This is crucial for a buyer as it prevents heart break during the shopping experience. If you know the amount of down payment you can afford, as well as the amount of a mortgage you are approved for, you can limit your search to homes within your budget.  This will prevent the all-too-common unfortunate situation where you fall in love with a home that you cannot afford. Pre-approval also helps a buyer in a bidding war; if you have a pre-approval and the other potential buyers do not, you have a leg up in the negotiation process.
Myth 3: An open house is the best way to sell a house.
It is estimated that approximately 2% of homes are sold as a result of an open house. While open houses have the possibility of attracting a buyer, it is not likely that it will. Why? Not everyone that attends an open house is actually in the market for a home. It could be a nosy neighbor that attends; an individual looking for a family member or friend who cannot attend the open house; people considering, but not decided on, purchasing a home; other real estate agents; or simply people who are bored on a Sunday. Therefore, while a top Long Island real estate agency will certainly recommend open houses, it is not crucial to hold them every Sunday morning.
Myth 4: It is not necessary to stage your home for sale.
You must prepare and stage your home for sale prior to listing it on the market. This does not require complete remodels of kitchens and bathrooms.  However, it does require attention to cleaning, decluttering, minor repairs and staging. It is crucial that a buyer is able to see him or herself living in your home.  Homes that are not properly staged and prepared for sale will sit on the market for much longer than those that are not, which we know leads to hesitation in the mind of a buyer.
Myth 5: Both buyers and sellers can save money if they choose to forgo using a Long Island real estate agency.
Buyers do not get a better deal on a home if they do not use a real estate agent.  If the home is listed with a real estate agent, the total sales commission is built into the price of the home; therefore, if the buyer does not have an agent, the sellers agent will receive the full commission.  For sellers, it is definitely not impossible to sell your home on your own, especially if you have the abilities to have the home listed online, market it to prospective buyers, negotiate the contract and deal with any issues that arise. A bigger problem arises when buyers expect a discount on price because a professional is not involved. So while you may save on the commission, the value of your home may be lower in the eyes of buyers.
If you are interested in buying or selling a home on Long Island, contact a trusted Long Island real estate company before entering the market to ease your mind and gain professional assistance.