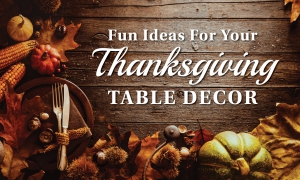 Thanksgiving has quickly come, and after hours and hours of cooking, why not spruce up your Thanksgiving table with great decorations to WOW your guests. Before you prepare your delicious dinner, prepare your table! Feast your eyes on these 10 fun and easy ways to make your Thanksgiving table look fantastic!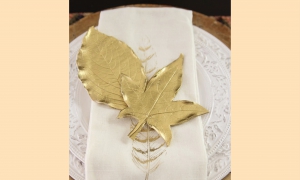 GOLD CLAY LEAVES
What a stunning addition for your décor! This easy-to-make decoration will help your dinner table go from plain to beautifully elegant.
Source: Hometalk.com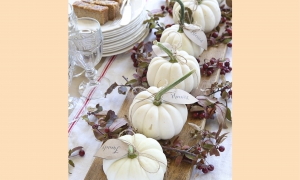 PUMPKIN FALL SETTING
For this beautiful centerpiece, all you need is a few small white pumpkins (real or fake) and little leaf shaped tags to tie to the stems. You can write Thanksgiving related words on the tags such as grateful, thankful, harvest, family, etc.
Source: Ellaclaireinspired.com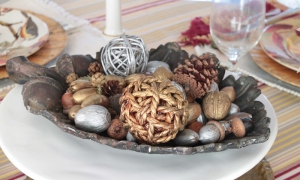 FANCY NATURAL ELEMENTS
Don't spend any more money on fake autumn décor, just got outside and find some in your yard! Check out how to enhance your table with elements from the outdoors.
Source: Hometalk.com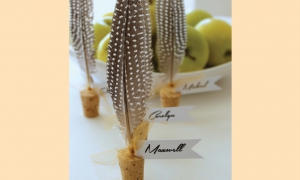 FEATHER CORK PLACE HOLDERS
Do something different this year with these feather-in-cork place cards. Your guests will find these unique placeholders fun and original!
Source: Hometalk.com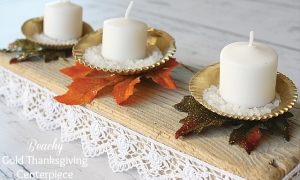 BEACHY CENTERPIECES
Missing the summer time already? Give your Thanksgiving table a nautical twist with this fun DIY gold seashell centerpieces.
Source: Hometalk.com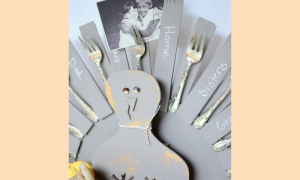 DIY THANKFUL TURKEY
Show your guests what you are most thankful for with photos of family and friends on this cute DIY thankful turkey!
Source: Dandelionpatina.com
FOR THE KIDS!
Once you finish decorating your beautiful Thanksgiving table, don't forget about the kids table! Here are a few fun ideas that will make your child thankful to sit at the kids table this holiday.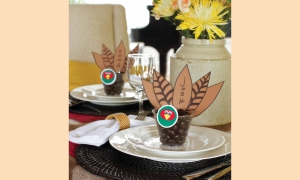 TURKEY PLACE CARDS
Your kids won't have any issues finding their seat this year! Check out this turkey inspired candy place card idea that your kids will love.
Source: HGTV.com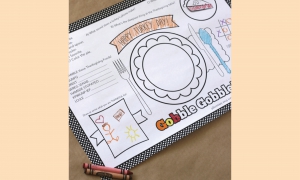 FUN COLORING PLACE MATS
Your kids won't want to leave the table if you have these fun place mats. Grab some crayons and markers and print out any of these 12 fun place mats!
Source: Thesuburbanmom.com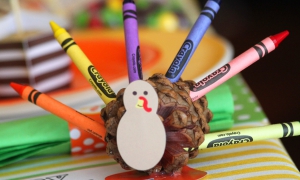 TURKEY CRAYON HOLDERS
Create these cute crayon holders to go along with the coloring place mats for your kids. What a fun way to bring the two ideas together!
Source: Amandaparkerandfamily.blogspot.com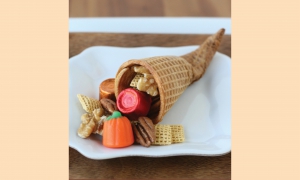 ICE CREAM CONE CORNUCOPIA TREATS
Once desert time comes around, give your kids these fun ice cream CONE-ucopia treat stuffers! They will be gobbling down the delicious treats all night!
Source: www.glorioustreats.com