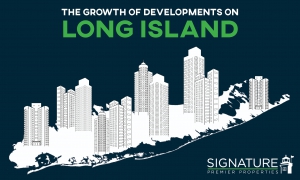 Long Island real estate has always been centered around the appeal of suburbia: Long Islanders are close enough to the city that it is accessible whenever wanted or needed but far enough to maintain a more quiet and more spacious existence. Owning real estate on Long Island, especially along the shores, has always been a symbol of affluence. Sprawling land. Massive homes. Gated driveways. However, a movement to urbanize Long Island, even in the most affluent neighborhoods, is certainly underway.
Apartment complexes are not foreign to Long Island. For years, Long Island has been home to apartment buildings, some even mimicking the tall industrial buildings of New York City. However, recent years have seen tremendous growth in the urbanization of suburbia. Many former city dwellers, or young Long Islanders, are seeking the appeal of urban life in suburbia: the prices are better, the surroundings are quieter and the amenities comparable. There is no need to shovel snow in the winter or mow expansive lawns in the summer. More inclusive or upscale apartments, townhouses or condos on Long Island, contain swimming pools, fitness centers, meeting or party rooms, BBQ pits and more! Not to mention, purchase prices typically under one million, and even many under five hundred thousand.
This movement demonstrates a shift in Long Island culture and mindset. The Long Island real estate market is directly reflective of the trend toward city-style living in the suburbs. It appears at least in part that the dream of a quaint home, with a white picket fence and manicured yard has been replaced with the vision of low maintenance complex-style dwellings. Of course, for units up for rental, there is a huge appeal to young adults, who may not have the funds for a down payment or may not want the responsibility of the maintenance of a home. In towns such as Rockville Centre or Huntington, this push is especially great considering the walkability of the neighborhoods: these areas of akin to the city with their wide selection of restaurants, bars, shops and more.
Of course, there is some push back by those who wish to keep Long Island sprawling and less dense. In fact, some Long Island residents and groups have gone as far as to file lawsuits, seeking to stop the growth of developments on Long Island. Their argument, which to date has been unsuccessful, is that the quality of life on Long Island will decline with the increased amount of condos, townhomes and apartments. More specifically they cite increased traffic and noise pollution. Others, while recognizing the need for increased housing on Long Island, wish to maintain the charm and history of Long Island.
Despite any push back, Long Island has seen the most growth in the building of developments in the country over the last five to ten years, with the creation of over forty new developments (home to nearly 13,000 apartments). It is clear that the Long Island estate market, and landscape, may see significant changes over the years to coming, leading to a shift in gear of real estate companies on Long Island.