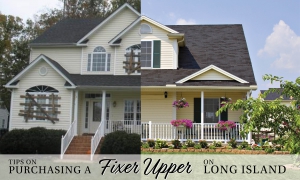 Long Island's real estate market is full of expansive estates, waterfront properties and quaint family homes. New development is rare due to how built up Long Island is and areas of preservation. However, Long Island does have its fair share of "fixer upper" properties, whether foreclosure properties, storm-damaged properties or just simply outdated properties. The idea of purchasing a fixer upper is exciting for some; you can turn the house into your perfect envision of a home. Yet, it can be quite overwhelming for others; after all, it is a lot of work and you may not be able to actually stay in the house for some time. If you are on the fence about purchasing a fixer upper, or have decided to take the plunge and purchase one, here are some tips to follow.
Fixer upper homes typically appear to be a cheaper option; they are on the market for much less than move-in ready homes, as they are not visually appealing. However, depending on the extent of fixing-up the home needs, renovations can prove quite costly and end up putting you way over budget. Before you purchase a fixer upper, hire a structural engineer to access the structural damage of the home to determine how much the non-aesthetic renovations will cost. There are many estimates out there you can do on your own as well, especially for aesthetic renovations. If you do not know where to start, find a friend or family member who has performed renovations and ask them. If you put together a list of possible renovation costs prior to purchasing, you will have a better idea of whether the home falls within your budget.
With that being said, remember that there is a difference between "ugly homes" and those that are falling apart. Many fixer uppers are just ugly; the yard is overgrown, the wallpaper is from the 1970's and peeling from the wall, there are shingles missing from the siding and so on. Although not cheap, these aesthetic renovations are certainly more affordable than damaged roofs or cracked foundations. Many cosmetic repairs can be done on your own, especially yard maintenance or paint jobs. If you choose to undertake these repairs on your own, make sure to purchase the proper equipment and have a basic understanding of what you are about to do. This will be more work on your part, but much more cost-effective. However, if your engineer determines that there are significant structural concerns with the home you ultimately choose to purchase, you will need experts in the field to conduct the work.
Make sure to research what loans you qualify for. There is a special type of financing, or a renovation loan, for homes that require a certain level of renovation. Renovation loans can either be government-backed or not. Government-backed renovation loans have a huge upside: lower interest rates and acceptance with lower credit scores.  However, these loans have a cap on the amount you can borrow. Private renovation loans will give you as much money as you need to complete the renovations, assuming you are approved.
Expect the unexpected during renovations. Despite all of your preparation and work, renovations on fixer uppers never go 100% as planned. You may end up slightly over budget (plan for this!), renovations may take longer than expected, a distributor may ship the wrong product and you may be working harder than expected. It is common knowledge that a fixer upper will be a lot of work; but if you can learn to take a deep breath and remember that your dream home is at the end of this, it will all go, or at least seem, much smoother.
If you have questions or concerns about purchasing a fixer upper property, contact your local Signature Premier Properties real estate agent. Good luck!